Terms & Conditions
Our website
Your use of this website and any service contained within constitutes acceptance of these Terms & Conditions.
Customer Information
You should always check that the contact information you provide is correct before creating a customer account or proceeding to payment.

We will only accept payment through the options provided on our website.

Our website is only intended for use by adults. Adults may purchase products for children as long as the products purchased are intended by the manufacturer for use by children.

Privacy
Shelvee takes your privacy seriously. We comply with the Data Protection Act 1998.

Product
All our furniture is made from quality natural wood and accordingly appearances may vary. Some woods will mellow with age and exposure to sunlight. When you are purchasing our furniture you are buying handmade furniture where varying degrees of distressing is generally applied. This is very much intended and makes each piece totally individual as desired by the craftsmen. All of our furniture is handmade and small imperfections are part of the natural character of the furniture. Certain degrees of filler will be used with spruce furniture, this is common and very much part of the manufacturing process. The variety and patterning of the tones is unique to each piece and this is very much part of the natural appeal of these pieces. Each piece is hand crafted and may vary slightly from the one shown on the website. All measurements listed on the website are approximate because we cannot guarantee exact measurements due to the handmade nature of the furniture. Manufacturers finish and colour of the timber can vary therefore we cannot guarantee finish match when re-ordering at a later date. We always do our best to match furniture for you but we cannot accept returns for furniture that does not match existing furniture. We have made every effort to portray the correct colouring of our finishes on the website. However, colour can vary on different monitors and printers. It is the client's responsibility to understand the dimensions of the furniture ordered and to ensure that it will fit in the proposed space. It is also very important to check that there is adequate access. The majority of our products are sold fully assembled, however on occasions certain pieces will need minimal assembly, this has been deemed fit to protect the item in carriage. Alway check the condition and strength of the wall you wish to hang your shelf from. Shelvee takes no responsibility for the installation of your shelving and we recommend that you use a qualified tradesperson to install your shelves. By the very nature of both the materials we use, and the type of industrial furniture we are producing, our wood could contain all of the following characterful traits: (which are expected within each piece and for which we are unable to offer any kind of discount or refund)
Bandsaw marks across the grain.
Small 'chip out' marks from the planer
Knots/cracks
Small machining marks
(Hopefully all of these attributes will add to the uniqueness of your piece)
Safety

GENERAL AWARENESS Please DO NOT hang overhead (beds, cot beds etc) to avoid any falling objects causing injury.
FIRE SAFETY Our products are made from natural wood, please KEEP AWAY from a naked flame.
 
Pricing
We make every effort to ensure that the pricing displayed on our website is correct. However if an error in the pricing of a product is found we reserve the right to either cancel your order or contact you to arrange payment of any extra sum due or refund any over-payment made by you (as applicable). The processing of an order can be cancelled or corrected by us at anytime up to the shipment of that order and any related items.
We reserve the right to alter all product pricing without notice.
Products ordered from us does not pass to you, the purchaser, until we have received and processed a valid payment and that payment has been made into our own bank account.

Your Order
When you place an order you will shortly thereafter receive a confirmation email from us to confirm your order. Your order constitutes an offer made to us to purchase the goods specified in the order.

Your offer is only accepted by us once we have emailed you to confirm the dispatch of your order.

Product items not included within the dispatch email are not included in the order and contract between you and us.

We reserve the right to delay or refuse orders where a transaction contains incomplete details or details that can not be verified or where fraud is suspected.

If we are unable to reasonably ascertain these details or resolve these issues a full refund will be made against the card used at the time of purchase. No other form of refund or credit will be offered nor will a refund be made to any third party card or account.

Subject to our discretion, we may allow the customer to pay an agreed proportion of the total order cost as a deposit to reserve the goods for up to 8 weeks from the date of order. If the balance is not paid by this time, Shelvee reserves the right to retain the deposit and cancel the order. All deposits are non-refundable.

Shipping
All orders received by us are shipped subject to availability. We make every effort to ensure all orders are dispatched within 14 working days of receiving payment.

We cannot be held responsible for disruption to shipping caused by industrial disputes or action outside our direct control. If such disruption occurs you will be offered delivery via an alternative delivery or fulfilment company or a full refund.

If you are ordering a product from outside the UK the recipient of the product is responsible for all customs duties or tariffs incurred in the country to which the products are shipped. Furthermore your order may be subject to delay or be opened and searched by local customs authorities when entering the destination country. Please note we are unable to provide specific advice on customs duties or tariffs.

Cancellation Rights, Returns and Refunds
Under the Consumer Protection (Distance Selling) Regulations 2000 you have a right to cancel your purchase. However, to exercise this right you must notify us in writing, (email or letter) within 14 working days from the day after you receive your goods. Section 28(1)(b) of the CCRs excludes 'the supply of goods that are made to the consumer's specification or are clearly personalised' from the right to cancel.
As stated above, notification of cancellation must be in writing, a telephone call is not a valid cancellation. To complete your return, we require a receipt or proof of purchase.
No right of cancellation, refund or return exists under the Consumer Protection (Distance Selling) Regulations 2000 once you have used your product, unless the product is defective and you are returning it for this reason.
Damaged, lost or faulty goods will be replaced free of charge or the customer will be refund. Shipping fees are limited to a maximum refund of £40. 
If goods are returned that are not faulty, the customer will be refunded in full minus the original delivery cost paid. A collection fee equivalent to the original delivery cost will also be levied. Goods that have been personalised or subject to international shipping will not be refunded unless faulty.
Please observe the following procedure for all returns to us:
a. Contact us on info@shelvee to let us know your intention to return your purchase.
b. If you are returning your product because it is defective, please state the defect or defects.
c. Adequately repackage the product for shipment, including any accessories, brochures, manuals, guarantees or warranties that came with the product. Unfortunately we will be unable to issue a refund where the product is in an incomplete state.
You are responsible for arranging and paying any postage or shipping costs incurred when returning the product if it is not faulty.
You are responsible for arranging and paying any postage or shipping costs incurred when returning the product if faulty we will only refund your postage equivalent to our own shipping rates, unless the goods are personally returned to our premises by the customer.
We will not issue refunds for any items lost or stolen in transit to us.
Where a return is lost or stolen in transit to us, you should claim compensation from the company that shipped the return.
Subject to the above, we will action the refund of a returned product within thirty days of receiving written notification of your intention to return the product.

Customer Complaints
We endeavour to respond to all customer complaints or queries within five working days.

Faulty Products
As per Consumer Rights Act 2015- you have a right to return/reject any faulty goods to us within 30 days of receiving the goods for a full refund.
If we deliver incorrect or damaged goods, or in the event that you discover any defect in the goods for which you require compensation or other remedy, you must report the defect within 30 days of the date you receive them, or as soon as possible thereafter by emailing us. Any defects or damages must be reported to us within 30 days and we must be emailed images/photos within the 30 days and before any return, refund or replacement is carried out. 
Where a Customer experiences a fault with a product it can be returned to Shelvee, subject to our returns policy above.

Events outside our control
Shelvee shall not be liable for delay or failure to perform any obligation under these Terms & Conditions if the delay or failure is caused by any circumstances beyond our reasonable control, including, but not limited to, acts of god, war, civil disorder or industrial dispute.

License
Shelvee grants you a license to access the content, information and services contained within our website for personal use only.

This license allows you to download and cache (using your browser) individual pages from our website.

This license does not allow you to download and modify individual pages or substantial parts of our website nor to make our website available via an intranet, where our website or a substantial part of it is hosted locally on the intranet in question.

Our website design, layout, content or text cannot be copied, edited or otherwise manipulated without our express prior written permission.

Our website cannot be placed within the frame-set of another site.

Third parties are not allowed to "deep link" to pages within our website, without our express prior written permission. All links (unless expressly permitted by us) should be to the main index page of our website. Furthermore, the content of such links, whether graphic or text should not be misleading, false, derogatory or in any other way offensive.

The restriction on "deep linking" does not apply to affiliate partners who wish to send customers directly to a particular page or product in order to increase their affiliate sales.

Copyright
Shelvee maintains proprietary interest in all of its handmade product designs. Unauthorized copying or reproductions of such designs will be prosecuted as provided by law.
Shelvee maintains proprietary interest in all of its products. All Shelvee handmade product designs and construction are owned and patented by Shelvee. Unauthorized copying or reproductions of such designs and the way in which they are constructed will be prosecuted as provided by law. By purchasing any of the Shelvee handmade products does not grant you any rights to its design or construction.
All content, databases, graphics, buttons, icons, logos, layouts and look & feel are the copyright of Shelvee, unless expressly acknowledged as otherwise.

The data mining, extraction or utilisation of product information from our website is not permitted without our express prior written permission.

Reasonably Foreseeable Losses
All business, indirect or consequential losses not reasonably foreseeable at the time of the contract between you and us are excluded.
Shelvee does not exclude or limit liability for death or personal injury caused by the negligence or breach of duty by us or our employees. 

Jurisdiction
These Terms & Conditions shall be interpreted, construed and enforced in accordance with English law and shall be subject to the exclusive jurisdiction of the English Courts.
Your statutory rights are unaffected.
Our contact details can be found on the contact us page.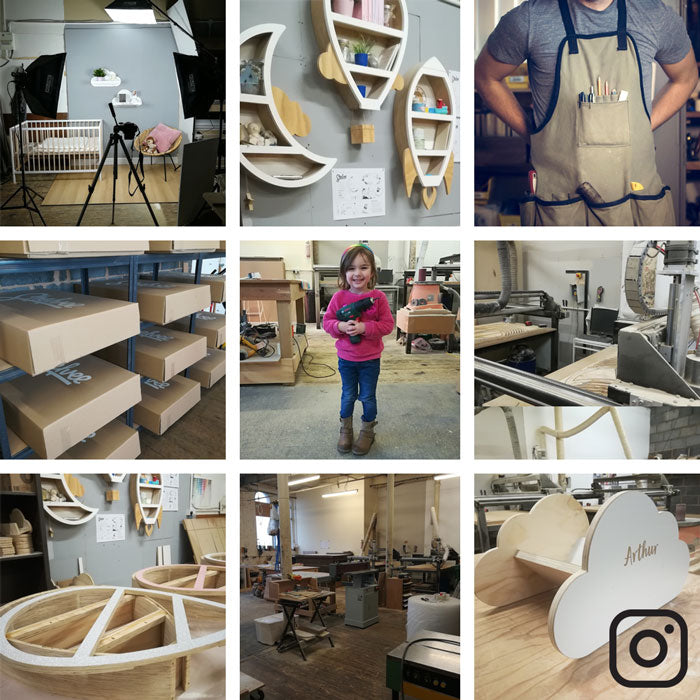 Follow us on Instagram
Follow us on Instagram for a behind the scenes look into the manufacting, new products, photo shoots and much more...
Follow